The Reluctant Whore, Part All - Cruel Unusual FemDom - Lady Cheyenne | FemDom Pegging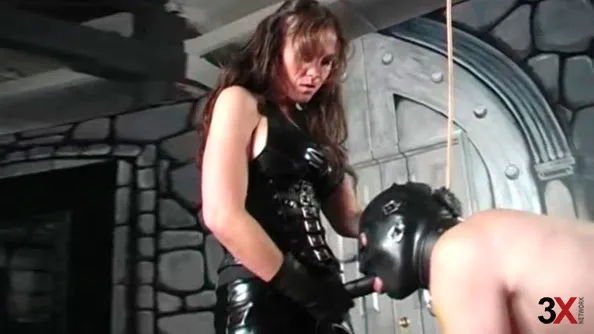 Link does not work? Click and tell!
Description video:
The Reluctant Whore, part 1

Lady Cheyenne is determined to emasculate her slave. His balls are locked behind him in a humbler and he is bent over a spanking horse. Lady Cheyenne picks the slave's face up with her index finger. Staring him straight in eyes she tells him that she is going to take his manhood. First she is going to cane his backside until he breaks down and cries. Next she is going to take his mouth and ass with her strap on cock. Lady Cheyenne then proceeds to cane the slave's ass with no mercy. Instant red welts arise. The slave winces and moans. This annoys Cheyenne. She walks around to his face and demands he stick his tongue out. She canes his tongue, telling him to save the sniveling for when she is fucking him in the ass. Then she goes back to caning him, enjoying every bit of his suffering. The slave kicks his feet in the air. Cheyenne canes the bottom of his feet. When the slave has had a throughout caning and is reduced to near tears, Cheyenne laughs at his pathetic state. She tells him that she's going to him to suck her cock and then fuck him in the ass with all nine inches.


The Reluctant Whore, part 21

Lady Cheyenne's slave has been beaten severely with a cane. He asked what he's done wrong. She laughed and told him nothing at all. She just enjoys beating him. Now he is going to suck her strap on cock. Then she is going to fuck him in the ass with all nine inches. The slave resists, trying to hold on to the last bit of manhood he has left. Cheyenne will not accept this. She doesn't want to the slave simply to be willing to suck her cock. She is determined to bring him to the point that he desperately wants it. She lays into him with the cane, telling him to let her know when he wants her cock. The slave finally relents, begging for Cheyenne's cock in his mouth. Cheyenne feeds the slave who is now grateful to be sucking her off. Then, Cheyenne makes her way to his ass, delighted with the slave's tight virgin ass. She is quite proud that she's broken the slave's spirit, bringing him to the point that he actually wants her cock in his mouth and ass.

Runtime: 00:12:03 * Type video: 960x720 HD (4:3) * File Size: 180 MB
---
---
Related video: