Gag On It, Slut! - COMPLETE MOVIE - Amber's Dungeon - Mistress Amber, Mistress Brianna | FemDom Pegging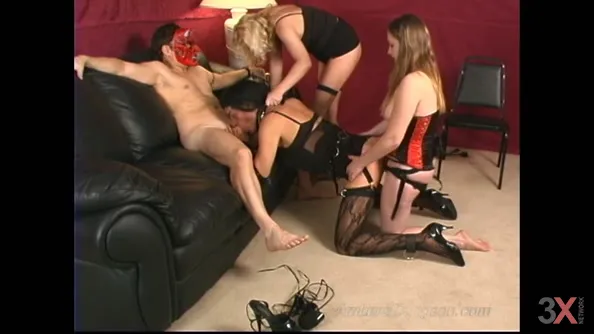 Link does not work? Click and tell!
Description video:
'Gag On It, Slut!' - 1 of 3

Mistresses Amber and Brianna have their dirty big dicked slut tosha on the floor and stomp his cock and kick his balls to warm up. Mistress Amber commands him to worship Mistress Brianna's ass and clean Her backside thoroughly. A face dildo is put on him and he face fucks Mistress Brianna while Mistress Amber prepares to fuck him with Her strap-on.


'Gag On It, Slut!' - 2 of 3

Mistress Amber drives Her cock deep into cum slut tosha. Up in front, Mistress Brianna is enjoying the face strp-on being driven into Her pussy every time Mistress Amber thrusts forward. The little slut is making himself useful at both ends. Deep and hard fucking and then Mistress Brianna removes the face dildo and makes their submissive suck Her juices from it.


'Gag On It, Slut!' - 3 of 3

Mistress Amber motions for a real cock and Devil Dick enters and the slut is told to start sucking his cock. Mistress Brianna moves behind and jams Her dildo into slut tosha's ass while he is sucking cock. Mistress Amber begins fucking the submissive again as Mistress Brianna encourages the slut to suck the Devils cock. Mistress Brianna then sits down in Devil Dicks lap and the submissive is fucked from behind while sucking cock and licking pussy.

Runtime: 00:22:15 * Type video: 1280x720 HD (16:9) * File Size: 728 MB
---
---
Related video: