You Didn't Bet On This full - Raptures Fetish Playground - Goddess Rapture and Eli Hunter | FemDom Pegging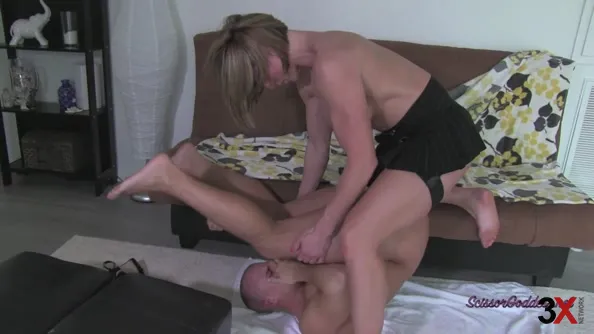 Link does not work? Click and tell!
Description video:
This is the full version of the previously release parts 1 & 2.

*this clip includes * MUSCULAR WOMEN * MUSCLE COMPARISON * STRAP-ON * BI * LIFT & CARRY * ANAL SEX


You Didn't Bet On This part 1
Rapture & her friend Eli are having a friendly strip arm wrestling match, when they decide to do the best out 3, with the winner getting to do whatever they want, to the loser. Throughout the match, Rapture lose her bra, and Eli loses everything, leaving Rapture the winner. She stands up, revealing a large strap-on underneath her skirt. Eli is surprised by this, and tells her that her strap-on isn't going anywhere near his mouth. Rapture has other ideas & starts to get angry with Eli. She grabs the back of his head & shoves the dildo inside his mouth, making him suck on it as she moves it in & out of his mouth. She does this for a minute, then she tells him to get on all fours. She walks around behind him, lubes up her strap-on, and gets ready to slide it into Eli's ass.
You Didn't Bet On This part 2
Part 2 picks up right where part 1 left off, with Rapture getting ready to slide her giant dildo into Eli's ass. Eli isn't happy about it, but he's not in the position to argue with her. Rapture fucks him in many different positions. First is doggie, then she sits down on the couch & tells him to sit on her cock, and then she stands up, puts him in a bear hug to lift him up, and fucks him in that position for a while. When she's finished, Rapture leaves the room & leaves Eli to lick his wounds.
Runtime: 00:11:58 * Type video: 1920x1080 FullHD (16:9) * File Size: 459 MB
---
---
Related video: