Ep. 276: Well hung I and Ep. 277: Well hung II - Baroness Revenge - Baroness Davina Dust, Lady Lia | FemDom Pegging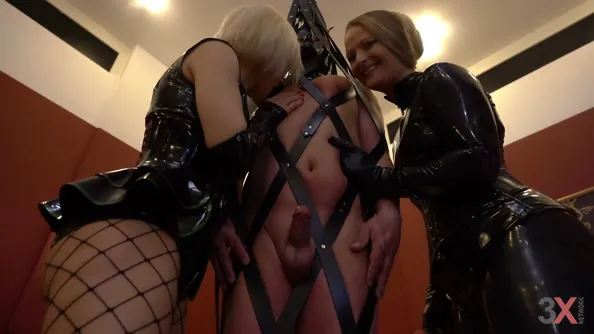 Link does not work? Click and tell!
Description video:
Ep. 276 – Well hung

Baroness Davina Dust orders her slave to oil her latex dress. But the naughty guy dares to touch her ass. Together with Lady Lia she puts him into a bondage bag. The two mistresses take advantage of the extreme room height of Studio Asgard and use the pulley to hang their slave quite high. Completely at their mercy he has to take the cane.


Ep. 277 – Well hung II

Baroness Davina Dust and Lady Lia hang their slave to the ceiling of dungeon Studio Asgard. While he's dangling there the mistresses think about what to do next to their victim. Looking at the latex devil's tail of Lady Lia they have an idea: The slave shall meet the Baroness' overdimensioned giant dildo.


Ep. 276 – Gut abgehangen

Baroness Davina Dust lässt sich von einem Sklaven das Latexkleidchen einölen. Doch der freche Kerl fasst ihr einfach an den Hintern. Gemeinsam mit Lady Lia stopft sie ihn daher in einen Fesselsack. Die beiden Dominas nutzen die extreme Raumhöhe des Studio Asgard und lassen ihn mit dem Seilzug in der Höhe baumeln. Gnadenlos ausgeliefert muss er nun den Rohrstock spüren.


Ep. 277 – Gut abgehangen II

Baroness Davina Dust und Lady Lia hängen ihren Sklaven hoch an die Decke des Studio Asgard. Während er dort baumelt, überlegen die beiden Dominas, was sie als Nächstes mit ihrem Opfer anstellen. Beim Anblick von Lady Lias Teufelsschwanz aus Latex kommt ihnen eine Idee: Der Sklave soll Bekanntschaft mit einem überdimensionierten Riesen-Dildo machen.

Runtime: 00:16:01 * Type video: 1920x1080 FullHD (16:9) * File Size: 504 MB
---
---
Related video: