My Bi Boi Bitches Part All - Mistress Nikita | FemDom Pegging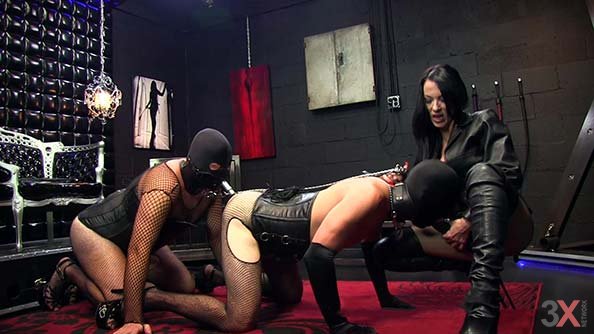 Link does not work? Click and tell!
Description video:
My Bi Boi Bitches Part 1

There's nothing like watching two boi-sluts play with each other for my amusement. It's like having two slave sex puppets at the end of my chain strings completely under my control just begging to do whatever I wish. I like to keep them chastised for several weeks before I allow them to stroke, rub, suck and lick "my" rock hard drippy cocks. They're all dressed up in fishnets, heels and leather corsets so they look like prissy little femme bois. The thick posture collars and leashes let them know they're owned property and the hoods take away their identity. They're only allowed whatever identity I decide to give them anyway. It's so fucking hot watching these two bitches go 69 sucking each other while I get behind the one on top and shove my big black cock deep in its slut hole. The slut on the bottom can't keep it's tongue off of those balls dangling in it's face or it's finger out of the fuck hole just above them. Can you imagine that both of these bi-boi-fuck-sluts came to me saying "I'm not into guys, Mistress... that's a hard limit." Um, right... whatever. When you're mine for real you do what you're told, and you love it! Maybe I'll let you kiss my gorgeous new boots if you're a good bi-boi-bitch.


My Bi Boi Bitches Part 2

I was having so much fun playing with my two bi-boi sex toys I just couldn't stop at watching them suck each other off. I decided to strap a dildo gag to one of them and watch it face fuck the other while I dug my stiletto heels into its back. You should hear the little femmy corseted and high heeled fuck-slut moan when that thick rubber cock plunges deep in its wet boi-hole. What a total slut, I swear! Do you have any idea how exciting it is to watch two horny "once hetero males, now owned cock hungry cum dumps" go at it while tethered to the end of my leashes? Um, probably not... but maybe you wish you could be one of them. A Mistress can never own enough cock to amuse herself with. Or is it just a fantasy for you? Are you too scared and embarrassed to admit that you want nothing more than to be a faceless open hole that exists to chug down hard cock and begs to swallow gobs of hot cum? Watch this video and see what your new life might be like under my boot heels.

Runtime: 00:17:51 * Type video: 1280x720 HD (16:9) * File Size: 786 MB



---
---
Related video: