Dont Fuck With Sydney - Part All - Feat AstroDomina - Mistress Sydney | FemDom Pegging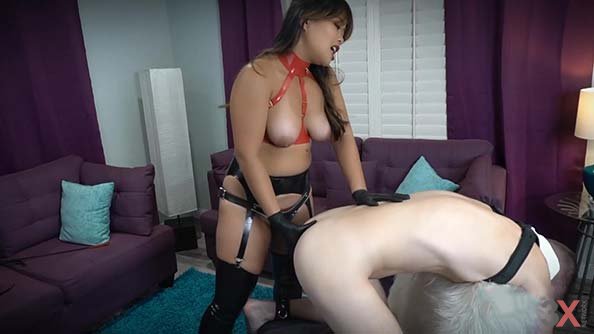 Link does not work? Click and tell!
Description video:
DONT FUCK WITH SYDNEY - PART 1 - Feat Astrodomina

Look at what I've got here.. a pitiful slave helpless at my feet. What's a Goddess to do? I guess just I'll have to destroy him

Part 1 opens with Sydney teasing her pathetic chastity slave kneeling on the floor at her feet. She decides the slave really needs something up his ass so she starts to lube him up and shoves a big black plug all the way in. He still has too much freedom so she binds his hands and shoves the gag even farther up his mouth

The teasing and torment intensifys as she starts teasing his locked up dick. She steps all over his chastity cage with her thigh-high boots, tickles and caresses his jailed little member, laughing at his utter frustration and getting off seeing him struggle. She tells him how hot it makes her to constantly deny him and violate his asshole. He will have to begin ass fucking training right away if he's going to keep Sydney happy.

She's simply preparing her new toy for full exploitation.. how far will she take his torment? Find out in Part 2!


DONT FUCK WITH SYDNEY - PART 2 - Feat Astrodomina

Now that my slave is warmed up, time for the REAL action. He's about to get an ass load he won't soon forget!

After binding her slave up nice and tight in Part 1, loosening his mangina with a butt plug and telling him what his future holds, Sydney finally decides he's ready to take her strapon. This is her absolute favorite part, hearing her bitch boys moan and feeling them squirm as she shoves her big black cock up their ass! You can hear her excitement at watching it vanish inside their asshole, fucking them deep and hard.

The strapon session just keeps getting more intense as his struggles turn Sydney on more and more. She torments him about his locked up cock and says his cage will be staying on even though she'll be fucking him all the time from now on. Yes, this is only the beginning of a long frustrating life of being her strapon slut.. She informs him that tomorrow she says she's going to adjust to an even bigger strapon, and she'll keep fucking him day after day after day while he just becomes her personal fuck doll stuck in chastity..

Runtime: 00:26:08 * Type video: 1920x1080 FullHD (16:9) * File Size: 924 MB
---
---
Related video: