Dominant Lunch Date (ENTIRE MOVIE) - Mistress Cherry Morgan, Goddess Kylie Rogue | FemDom Pegging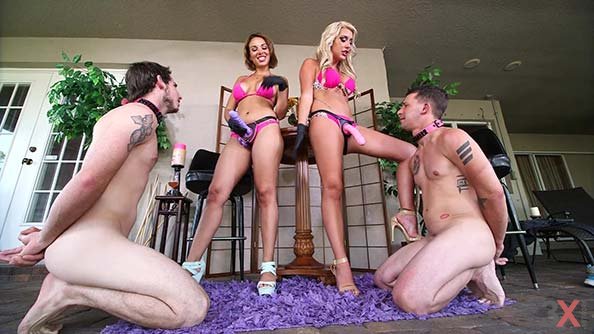 Link does not work? Click and tell!
Description video:
Dominant Lunch Date Pt 1

Mistress Cherry Morgan and Goddess Kylie Rogue decided to take a day off from corporal punishment at ClubDom, And get dressed up out of their normal latex and boots and just have a nice day together ,they are at a cafe waiting for a couple of cuckolding bitch boys to come and serve them for the day, The cocky male waiter keeps making rude sexual remarks as he practically eats them with his eyes and has made a few passes at them already, When Goddess Kylie says listen to me very carefully a Lew is it ? I get it you hit on a lot of women here and they fall for your bullshit, But I am going to explain something to you one time and one time only, You have know Idea who your fucking with, me and my friend Cherry would like you to serve us with a smile and proper manners, be nice and prompt but knock off with the bullshit because we will ruin your fucking day pal, Astonished the waiter Lew looks at Kylie and says oh but of course Madam maybe I can give you a little kiss and make up for my rudeness ? Just then Mistress Cherry smacks the bitch ass waiter right in the mouth and put him in a choke lock as Goddess Kylie pulls down his pants and bends the bitch over the table and the Ladies notice this ass clown has a pink butt plug shoved up his ass, They start laughing and then tie the slut down bent over the table and grab a couple of sticks and began a brutal caning as they teach this ass fuck some manners


Dominant Lunch Date Pt 2 (Strap-On)

Mistress Cherry Morgan and Goddess Kylie Rogue decide it's time to further this sluts education on how to have manners and address a woman from this pint on, After canning his ass into complete submission they now fuck his man pussy with a huge 15" inch thick cock Mistress Cherry shoves his mouth down till he gags and is drooling all over and tells him to quit crying like bitch or they will fuck him with his own tears, Finally they have the slut bent over the table and Goddess Kylie rams his tight little man pussy gaping and stretching it with her huge strap-on as he begs and pleads for mercy, Mistress Cherry holds him down as Goddess Kylie continues to fuck some sense into this slut Giving him the ass filling of a lifetime.


Dominant Lunch Date Pt 3 (Foot Worship)

Now that Goddess Kylie Rogue and Goddess Cherry Morgan have taught that annoying waiter some manners, it's time for their blind date, The boys arrive greeting the woman and then are both handed their pink collars and instructed to get on there knees and worship Goddess's feet, licking and kissing the ladies perfectly manicured toes and messaging their feet like good little cuck puppies should, And this date has only gotten started Pt 3


Dominant Lunch Date Pt 4 (Ass Worship)

Goddess Cherry morgan and Kylie Rogue have collard these cucky boys and made them lick and worship their feet they really pour it on thick teasing them with their beautiful wet pink Goddess pussies, Then explaining that that must be earned and that they will start at the bottom, The goddess's turn around and shove their ass's right into the boys faces. Goddess kylie smothers her bitch till he can barely breath, Laughing the woman take turns grinding and riding these slut boys faces making sure they lick every inch of their ass


Dominant Lunch Date (Pt 5 Strap On)

Goddess Cherry morgan and Kylie Rogue have 12" inch pink and purple Strap On's om and have changed into their sexy pink bikini's and now make their cuckold dates slather up their cocks so that they can fuck some boy pussy, Goddess Cherry fucks hard and fast , wWhile goddess Kylie uses more of a deep slow rhythm , The boys are crying out please fuck me harder Goddess, The ladies High five each other and laugh, Goddess Cherry comments, What a great day to fuck some man pussy it has been

Runtime: 00:35:05 * Type video: 1920x1080 FullHD (16:9) * File Size: 2.97 GB
---
---
Related video: