Duped Into Domination (ENTIRE MOVIE) - Mistress Reagan Lush, Goddess Sasha Foxx | FemDom Pegging, JOI Strap-on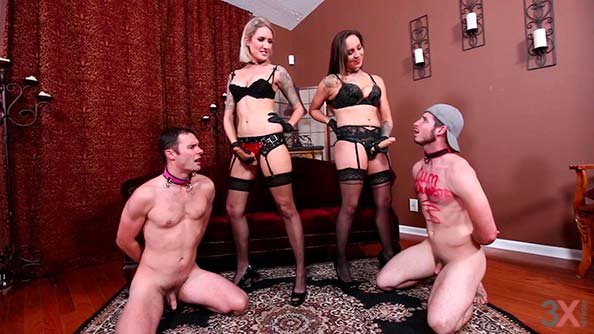 Link does not work? Click and tell!
Description video:
Mistress Reagan Lush and Goddess Sasha Foxx turn what should be a sexy evening of fun into total domination. When Toby thinks he is ordering two escorts and these Mistresses show up, things become very interesting, very fast. Featuring: Foot worship, strap-on, bisexual blowjobs, and more!


Duped Into Domination Part 1: Foot Bitch
Toby's friend recommended two women for him to have a real hot time with and sent him a link on the internet. He has been under a lot of stress and he assumes that spending some hot time with two women will be just the thing he needs to feel better. He contacts the women and they come over. In walks Sasha Foxx and Reagan Lush, two Dominant Escorts who enjoy making men their bitch. He has made a mistake but it's too late now. Or maybe if he does what the women say, he will end up getting some after all. How hard can it be to wear a collar and play their little game anyway? Toby puts on a collar and is shocked at how demanding the women are. They turn him into their little foot slobbering bitch. At least he gets to put his mouth on their sexy feet, this isn't so bad, is it? Toby lustfully worships their feet as they instruct. They notice he is hard and they immediately want him to jerk off onto their perfect feet and lick off the cum. He does as instructed feeling humiliated.
Duped Into Domination Part 2: CFNM Party
Toby is feeling very humiliated. His face covered in cum and "cum dumpster" had been written on his chest. Suddenly his friend Collin comes home, the same friend who gave him the advice to call some hot girls. He sees the predicament of his friend and tries to pretend he is shocked but the girls out him as a little submissive bitch and order him to get undressed and into a collar also.
The women are having a full-on CFNM (clothed female, naked male) femdom party and it looks like the men will have to have a dance-off to amuse them. When they are finished, the women compare their tiny penises to each other and decide things need to get even more humiliation.
Duped Into Domination Part 3: Pussy Tease
Toby and Collin are now both under the control of the hot women. It seems like perhaps the women are horny. This is a good sign. Maybe they will both get lucky now and the mean domination games are over. The women show the men their gorgeous wet pussies. The men can smell and see how wet and gorgeous they are but the women will not let them touch it. Collin gets a dildo gag strapped to his face and must pleasure Sasha with it while Toby is tormented with a glass dildo. The men must pleasure the women but cannot use their mouthes or cocks. Hopefully this is going to lead to them finally getting laid. They will do anything for these Goddesses.
Duped Into Domination Part 4: Bisexual Bitches
The gorgeous Mistresses really have these two fools jumping through hoops, as it's obvious the morons still assume they may eventually get laid, still not fully believing that these women are strict Mistresses! The women tell the boys they need some entertainment and they decide to make Toby into a cock-sucking bitch. Toby must blow his friend whether he likes it or not and boy does it look like he absolutely hates it. The more the women enjoy it, the more they shove his head down onto Collin's cock. They make Collin jerk off into his friend's face for the ultimate in humiliation. The women finally say they are horny and want to fuck. This is great. If they do get laid, then this will all just be one wild story about the time the two of them got lucky with two hot dominant women. They won't be gay at all and maybe it won't be so awkward later.
Duped Into Domination Part 5: He-Bitches
Mistress Reagan Lush and Goddess Sasha Foxx are absolutely in the mood to fuck! It's too bad their idea of fucking is a bit different than what the boys think it is. The he-bitches will be having sex all right, sex with the big strap-ons that these women are going to shove into their boy-pussies! The women go to town, fucking the guys deep and hard while they laugh. They really give it to them good between making them suck it and take it up their asses. The sluts cannot believe this is happening but must do as the women say. To make it extra humiliating, the women make the men hold onto each other while they both are fucked at the same time.
Duped Into Domination Part 6: Owned
Mistress Reagan Lush and Goddess Sasha Foxx now want YOU at home to become their fucked bitch. You know you want to train your holes to take their huge cocks. Shove a dildo, a cucumber or anything you have around into your fuck holes while you listen to these two dominant Goddesses tell you just how they want to fill you up with their dicks.
Runtime: 00:35:59 * Type video: 1920x1080 FullHD (16:9) * File Size: 3.04 GB
---
---
Related video: