College Step-Sister (Entire Movie) - Niaomi Mae | FemDom Pegging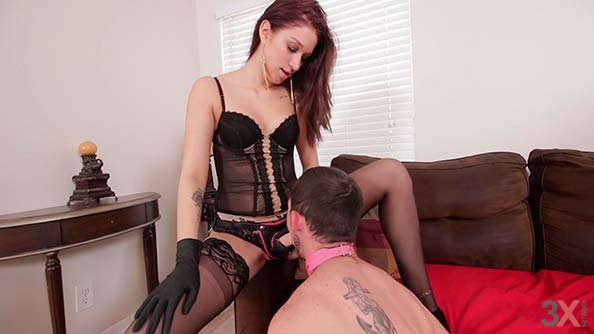 Link does not work? Click and tell!
Description video:
College Step-Sister Part 1: Brotherly Love

Toby's step-sister is a conservative good-girl who is about to head off to college and is very nervous. Big step-brother Toby reassures her that she will do just fine.
7 months later Toby has plans to meet up with his step-sister when she comes home on Spring Break and is shocked when she walks into the room in a skimpy revealing outfit with a whole new confident and dominant attitude. She says that college really changed her and that her new persona enables her to get whatever she wants. She tests that on her step-brother Toby by slapping him and teasing him with her pussy but instead giving him her ass. He must worship her ass as he has no choice otherwise as he is now afraid to say no, but yet, also cannot resist how hot she is.


Parker's Bitch Part 2: Cock Taster

Parker knows she has her wealthy, spoiled boy right where she wants him. He has dressed in her maid outfit and was to eat her ass in order for her to not tell his step-mother. Now she invites her stud over so she can blow him and show him what a real man is like and she tries to have him blow him. He pulls away so instead she makes him eat her spit so he could taste a real man. He has no choice, she will tell his parents that he touched her ass so he must comply by drinking more and more of her spit.


College Step-Sister Part 3: Craving Step-Sister's Pussy

Toby is pinned down by his powerful and dominant little step-sister who is endlessly teasing him with her pussy that is merely an inch from his face He can smell how wet and see her pussy up so close. He can't believe he wants his little step-sister's pussy so bad! She is in control now and wants him to suffer by being denied while she pleasures herself with her fingers and a big dildo and then gets him to taste her only off of the dildo. She compares the size of the dildo to his small cock and laughs.


College Step-Sister Part 4: Dick Sucker

"Suck that dick and get it nice and wet, or else it's going to go into your ass just like this. Suck it. Don't be a little bitch" Niaomi threatens her older step-brother. She him to suck her cock for her. In and out of his pathetic mouth it goes. Hopefully he will get enough thick spit onto it because that is the only lube she is offering him before she shoves it into his tight little fuck-hole.


College Step-Sister Part 5: Strap-on

Niaomi is not done with her step-brother. She needs to fuck him properly with her new strap-on lust and make him her bitch. He moans and whines but she does not care. Her only care is to jam her cock in and out of his tight virgin hole as he wails. He cannot believe what a dominant bitch his step-sister turned into but he can't help but find himself turned on by it and helpless to just take her cock.

Runtime: 00:31:03 * Type video: 1920x1080 FullHD (16:9) * File Size: 2.63 GB
---
---
Related video: