Cuckold Creampie 7 - Complete Movie - Mistress Kiss, Mistress Cindy Taylor and Master Chris | FemDom Pegging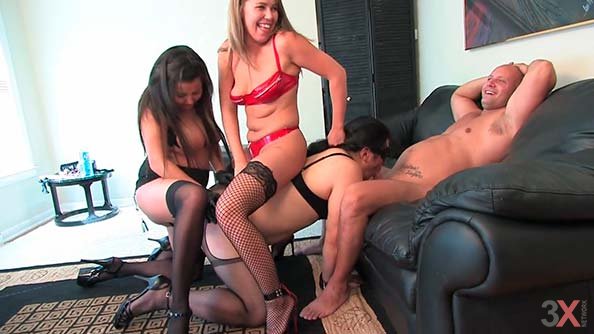 Link does not work? Click and tell!
Description video:
Cuckold Creampie 7 - Part 1 of 8

Mistress Kiss has placed an ad for a hot couple to help Her cuckold Her slaveboy marco. Mistress Cindy Taylor and Master Chris answer the ad and are greeted by Mistress Kiss. The ladies decide to send their bull to a local strip club to get even hornier and they have a glass of wine and begin to humiliate marco. Chris returns and the group adjourns to the living room where the ladies examine his cock and Mistress Cindy sucks up mouthfuls of precum to spit down marco's throat. DVD available at


Cuckold Creampie 7 - Part 2 of 8

Mistress Kiss holds marco's nose as Mistress Cindy finishes giving him a taste of the bull's precum straight from Her mouth. Mistress Kiss then moves to suck the hard juicy cock and gather the drool in Her mouth for Her submissive. She spits several samples into marco as Mistress Cindy looks on amused and then their submissive is made to kneel to service everyone orally. He first is made to smell the bull's balls and then licks both Ladies pussies and then sucks some cock under their control.


Cuckold Creampie 7 - Part 3of 8

Mistress Kiss and Mistress Cindy are extremely excited and ready to be fucked. They present their asses to Master Chris and he first fucks Mistress Cindy and then Mistress Kiss. Their cuckolded submissive, marco, is made to clean where the bull has last been. They are fucked in fast rotation before they put marco on his knees in front of the bull's cock to clean their juices up with his tongue. Mistress Kiss paddles his pantyhose covered ass and then moves to put on a big strap-on. Sissy slut marco has both his mouth and ass filled by cock at either end in hot humiliating action.


Cuckold Creampie 7 - Part 4 of 8

Mistress Cindy moves to straddle sissy slut marco and exam the ass fucking Mistress Kiss is applying. She makes sure he continues to suck the bull's hard cock and then moves back and spoons Master Chris, impaling Herself on his cock as sissy marco is made to service the couple orally as they fuck. Mistress Kiss continues to fuck his ass with the strap-on and then decides She really needs some bull cock. Mistress Kiss straddles Master Chris facing him and fucks him as Mistress Cindy paddles sissy slut marco's ass and makes him worship Her ass.


Cuckold Creampie 7 - Part 5 of 8

Mistress Kiss has several huge orgasms fucking the stud and Mistress Cindy moves to slip his cock in and out of Mistress Kiss' pussy so that sissy slut marco can slurp the juices from the shaft and deep throat the hard cock. Mistress Kiss spins and spoons Master Chris so that marco can have easier access and She can have several more orgasms. Mistress Cindy then positions Herself over sissy slut marco's face and Master Chris enters Her from behind as Mistress Kiss squeezes his balls and pulls on marco's nipple clamps. The bull blows a big load into Mistress Cindy's pussy and it drips into his mouth, held open by a metal dental dam. Mistress Kiss spoons out the last of the load into his mouth and he then licks clean the cock whose load he had swallowed.


Cuckold Creampie 7 - Part 6 of 8

Mistress Kiss sucked hard on the bull's cock and ordered sissy slut marco to eat Her ass. Master Chris was fully recharged and his dick got even stiffer in Her mouth. His wife, Mistress Cindy strolled in and planted Her pussy on his face. Mistress Kiss turned and impaled Herself on his stiff cock, making marco lick and his balls and suck Her clit as She orgasmed almost immediately. She popped his cock out of Her sopping wet pussy frequently for the sissy slut to suck the juice from the shaft as Mistress Cindy turned and gyrated on his face. Mistress Kiss turned, ordered marco to service Her ass as She continued to fuck the stiff prick of Mistress Cindy's husband.


Cuckold Creampie 7 - Part 7 of 8

With their sissy slut now bound on his back, Mistress Kiss bent over his face and had their big bull ram his cock in and out of Her pussy, dragging his balls over marco's face as Mistress Cindy, standing between his legs, planted Her high heel in his balls. Mistress Kiss took a sound fucking over maro's face and then Mistress Cindy laid back on him to receive the stiff cock as Mistress Kiss applied the violet wand to his cock. The Ladies made sure their cuckold tasted the juice off the shaft of the cock working over his face and then Mistress Kiss lay back on their human fuck bench and was drilled again by the inexhaustible cock.


Cuckold Creampie 7 - Part 8 of 8

Mistress Cindy hung in the stirrups over sissy slut marco's face and Her wet pussy was rammed from behind by Master Chris. Mistress Kiss wanted to take a turn in the swing and lay back on their human bench and marco was treated to cock sliding in and out and being ordered to tongue the juices. Finally, Mistress Cindy lay back and took the bull's turgid cock to orgasm as Mistress Chris strummed Her clit. The bull pulled out and the ladies made marco lick the juice from Mistress Cindy. Mistress Kiss spooned out the residual jism and then used tampons to clean out the rest, inserting them into marco's nostrils. He sucked the last of the juice from the tip of the bull's semi-hard cock and his cuckold service was concluded.

Runtime: 01:23:25 * Type video: 1280x720 HD (16:9) * File Size: 2.15 GB
---
---
Related video: