Strapon Tryouts Part 1 - 10 Scenes in SD - Ladies Angela, Viktoriya, Veronika, Karina and guys Nikita, Roman, Oleg, Kirill, Anton, Aleksei, Vadim, Sergei | FemDom Pegging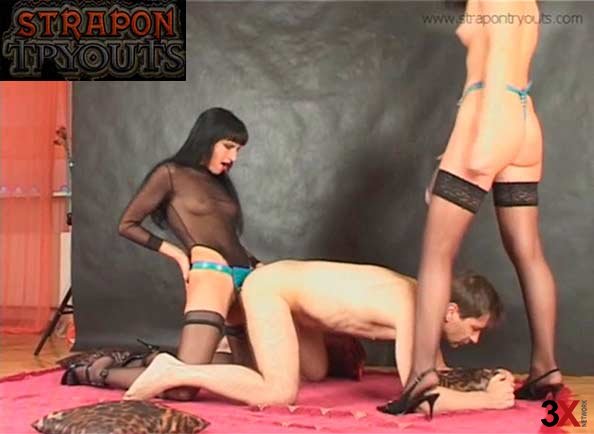 Link does not work? Click and tell!
Description video:
Latex-clad lady strapons a submissive male through the hole in his jeans with a giant dildo.

Sometimes women carry weapons which do not correspond to the seemingly innocent look of theirs. Like Angela here, having dolled up in a black latex suit and carrying a rubber cock the size of a machine gun. Nikita was wearing his usual jeans, but waiting for the slutty male to take them off was not something strict ladies do. So, in addition to an ass sore from an ultra-big rubber dick, Nikita got a ruined pair of jeans, good only for visiting his mistress Angela.


Two ladies in sheer black nylon take turns straponing a male ass and taking pictures of it

To understand a lesson fully, a naughty male has to see his punishment captured and immortalized for future humiliation. Roman here got into the hands of Viktoriya and Veronika, who, dressed in black like some menacing sex witches, strapon Roman's damp posterior with their XXL rubber dicks. Being handled by two women of such beauty is an honor to a manslut like Roman, but the pictures may be dangerous and compromising for him in the future. Who cares?


A male got his wrists tied and his butthole straponed by a hot leggy mistress in black stockings

Viktoriya has a name derived from victory, and here we see that she got that name for a reason. Watch her using Oleg as a sophisticated vibrator for her horny pussy, and then as a fuckhole for her oversized rubber dong. Submitting to her domination desires, Oleg licks her clean, plunging himself into the lady's crotch, his hands tired. The size of the black thing is frightening, but Oleg loves to please Viktoriya. He ought to.


A big naked guy is handcuffed, humiliated, flogged and straponed by classy female kinksters

Kirill may start thinking that the naked assets of Viktoriya are fully exposed to him for a reason. However, it's time he got used to his new role of a submissive male plaything. Veronika comes, and together they give Kirill a real hard time, flogging him with black leather belts. Then Viktoriya plants the guy's face between her firm round buttocks. Whether he is good enough or not, he will get his brains straponed out.


Hot mistress in black demands service from a naked male who surrenders his mouth and asshole

Lying naked and miserable on the wooden floor in this huge Victorian room, Anton was only able to remain motionless and anticipate the visit of Veronika, his strict mistress. Finally she comes, wearing her sexiest nylon and latex. Yelling out orders, she has him against her moistening cunt, Anton eating the love hole of his mistress frantically. Veronika enjoys the process. However, it can't save him from being straponed up his throat and shitter.


Two male coworkers punished and humiliated by their sexy female strapon-carrying boss

Karina, Aleksei and Anton work in the same office, Karina being the boss. She hates it when they screw things up - or lose the keys to her car, like this time. Crawling all over her luxurious apartments, they could not locate the damn thing. Enjoying her power, Karina got them naked, wrote obscenities on their backs and forced them to suck on the same strapon, something two normal males would hate to do. And of course she assfucked these two asscunts!


Dirty submissive male dressed up as a slut and fucked up his tight asscunt with a huge strapon

Vadim continues his career in the kink scene. This time the severe-looking redhead mistress demanded that he dresses up in female clothes to serve her needs as a filthy crossdressing male plaything. Of course he agreed! Assuming his new role, Vadim sucked on Veronika's menacing strapon and willingly took the large thing up his horny shitter making Veronika's nipples harden as she was indulging in her perverse domination fantasies.


Mistresses clad in smooth black and red latex garments fist a hot male bum and strapon it hard

Viktoriya and Veronika have teamed up as two strapon-carrying latex-clad domination whores to give Nikita a real hard time. The poor guy helplessly awaited the punishment. He trembles, feeling a fist in there. Not knowing whose fist is that, Nikita enjoys the combination of pleasure and humiliation as Veronika takes control and stuffs this filthy male ass with her strapon. When she's had enough, Viktoriya takes her turn, and the orgy continues.


Raven-haired female domina fills the ass of an subjugated male with a strapon the size of an A-bomb

Whenever Karina enters the room, your duty as a male is to get naked, kneel down and satisfy this dark, dangerous lady. Watch as she threw this male pig on the couch, his hands tied behind his back, and took her thing out. You men always boast about sizes, now it's your turn to handle a bit of a size. Karina kept poking this horny ass with this rocket-size sex tool till the guy begged for mercy. You don't think it stopped her, did you?


Mean mistress in black nylon and garters strapons a hot male ass and then fills it with booze

Sergei thought his regular pickup tricks will work, so he brought some Martini, definitely wanting to get it on with Karina. She, however, had plans of her own. Teasing the hell out of him with her sexy black lingerie and garters, she blindfolded the guy, gagged him, and pounded his ass with a larger-than-life cock. Just when Sergei thought it would soon be over, Karina drew a heart on his ass with red lipstick and poured some Martini into the ravished hole.

Runtime: 02:58:00 * Type video: 640x480 SD (4:3) * File Size: 1.63 GB
---
---
Related video: