Strapon Tryouts Part 2 - 11 Scenes in SD - Ladies Alisa, Angela, Alina, Diana, Elena, Karina, Nataly, Layla and guys Aleksandr, Andrew, Vladimir, Roman, Oleg, Nikita, Vadim | FemDom Pegging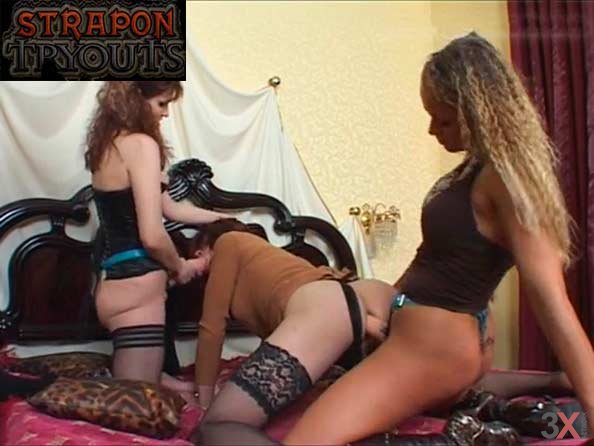 Link does not work? Click and tell!
Description video:
Two hot mistresses in killer lingerie threesome a kinky male probind him with their strapons

Lying there, on the floor, naked, his limbs tied with thick white rope, Roman was trying to imagine what awaited him that evening. Alina and Karina entered the room, both killer sexy, dolled up in their finest-looking lingerie, both carrying heavy rubber weapons. Feeling a strange dizziness, he opened his mouth and the game began. First the ladies took care of his hungry throat making him gag on the rubber. Then both of them put their sticks to action.


Horny submissive stud gets his mouth and butt probed by a tall classy mistress in black nylon

Angela is a kind of lady who knows her value. Aleksandr was stupid enough to think he would get away with just taking some pics, several compliments spilling from his lips. Wrong! The powerful vixen urged him to eat her cunt, planting his nose all the way between her buttocks. She then got him all worked up on the floor, rushing to get her thick rubber weapon when it was too late to stop. Having made his mouth and ass sore, she made him lick her leaking pussy dry.


Smoking domina dolled up in tight black latex assfucks a kinky obedient male in the kitchen

Karina insists she can do whatever she wants in her kitchen, even if the menu for the evening includes being dolled up in black latex, puffing on a cigarette and ravishing some submissive male butt. Vladimir knows she's not the one to mess with, so, wearing barely anything more than a black leather hood, he surrenders his dearest hole. She has him all around the kitchen, riding her huge rubber cock and moaning as she turns him into an utter manwhore.


A mean mistress in black latex uses her oversized strapon to dominate a girl and a male in bondage

When men are trapped in Karina's palace of perverse pleasures and fierce butt pounding, they never get away before Karina has her way with them. Watch as this male kinskter got his hands cuffed and his feet fixed, two females taking turns screwing his ass. Karina made Elena, a young submissive hottie, pound this filthy male with a black dildo, and then made the girl withdrew, arming herself with a strapon twice as long as thick. Damn, what a scene!


Serving his mistress in white latex dress a male gets his ass probed by her fists and sexy feet

Men have to work hard to keep Karina pleased. Few of them deserve to become her regular playthings, but Roman is surely one of them. Watch this pervy stud become an object for Karina's desires, her trampling the guy and making him serve as a piece of furniture. When she got worked up enough, she starts playing with his opening. Looking like some kind of insane nurse, she fists his butt until it's wide enough to incorporate her royal toes.


Strapon lady turns a medical examination into an ass-pounding fury with two toys

Oleg got sick and called for medical assistance. A suspicious-looking nurse called Nataly came. She passed through the usual routine checkup, and then her plans were revealed. The strapon lady appeared and started taking advantage of the guy's helpless condition. She urged him to eat Nataly's spicy pussy and ass and then drove her rocket-size cock into Oleg's naughty ass. She gave an even bigger tool to Nataly, and they both got off on poking Oleg's eager holes.


Big mean blonde mistress in black leather controls a couple using both for pleasure

Nataly and Nikita, this sweet young couple, are now about to learn a bit of obedience. Layla is here, looking mean, with her gorgeous assets falling out of her scary leather uniform. She comes to control and enjoy! Watch the blonde bitch finger Nataly, sliding her finger into the girl's choco eye. Then she probes Nikita's ass, soon taking both butts under control. Enjoying the view, she grabs a rocket-size dong and widens Nikita's hole who's busy eating Nataly out.


Feminized male spent the day taking large strap-on cocks from two superior women

With that wig and the make-up Vadim looked and felt like a dirty little girl coming home late. The guilt was obvious, and the punishment was imminent. Two mistresses stormed into the room, threw him on the bed and shoved their horny cunts in his face. The thongs cut into the crack of his ass, and the itch grew hotter as his fuck chute was fingered. When their royal pussies got enough eating, they took Vadim from both sides with their love tools, one big, and one bigger.


Horny blonde bitch gets off on getting licked and fucking a filthy male ass with a strapon

Alisa was feeling especially bitchy that day, and that made the slim, curvy, tattooed blonde horny like hell. She closed her eyes and started touching her throbbing pussy. Then she ordered the naked, subdued Roman to approach her and give her royal crack the tongue treatment it deserved. Soon she got so worked up that she had to throw off her underwear, arm her crotch with a king size strapon, and bring herself over the edge slamming into Roman's ass.


Dangerous blonde mistress plugs a male sub into her bald cunt and fucks his ass

Diana is not to be messed with. Such a gorgeous blonde-haired lady with a smooth, curvy, heavy body will take control over you, filthy male, in no time at all. See her powerfully urging Andrew to work on her hairless pussy smashing the guy into her royal pink spreading her feet in sexy red boots. Andrew works good, but it won't save his tight smooth ass from being ravished. Watch this giant black strapon work its way inside the guy's able posterior.


Redhead mistress in black latex urges two cute girls to serve her kinky desires

See that longing in her eyes, a big fuck tool rising from her crotch? Shepuffs on a cigarette until those two hot young females arrive, willing toserve and please. As they have fun with each other, she fingers theirdrenched holes and soon fills one of them with her oversized toy. The girlin white lingerie got caught between the mistress' fat fuck stick and thesmaller strapon of her partner. They switch positions until the powerfullady gets a happy satisfied face.

Runtime: 03:37:44 * Type video: 640x480 SD (4:3) * File Size: 1.31 GB
---
---
Related video: